News
13.09.2017
Delegation from the Ministry of Education of Saudi Arabia visits BSUIR
On the 11th of September the delegation from the Ministry of Education of Saudi Arabia visited BSUIR. The delegation included the Minister of Education Ahmed Muhammed al-Isa, assistant to the Minister Nasser Ibrahim al-Usman, general director of the main department for international collaboration of the Ministry of Education Salim Mohammed al-Malik. The delegation was accompanied by the leading specialist from the department of international collaboration of the Ministry of Education of the Republic of Belarus Mrs. Inna Khatskevich.

The guests were greeted by the rector Mr. Mikhail Batura, Vice-Rector for Research and Development Mr. Anatoly Osipov, acting head of the center for international collaboration Mrs. Elena Bakunova and deputy head of department for projecting of information and computer systems Mr. Vitalij Khoroshko. The guests were given a presentation of our University.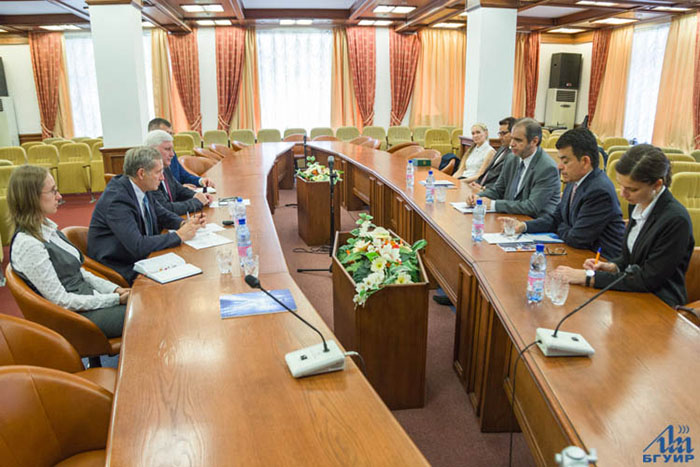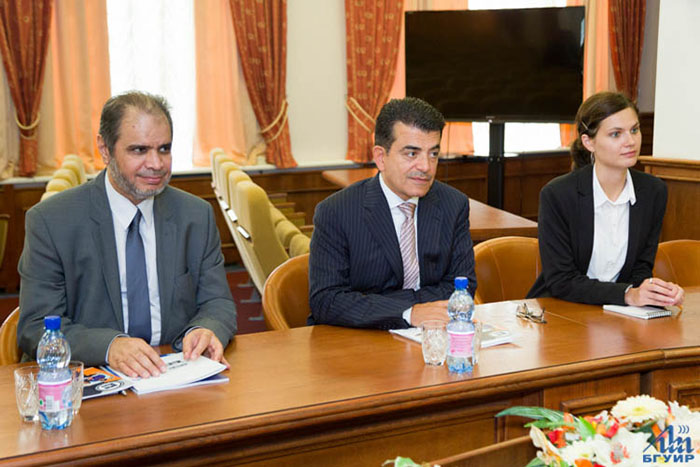 During the meeting the minister of education of Saudi Arabia noted that the priority areas of collaboration for their country are - nanotechnologies, advanced information technologies, medical electronics and technologies, new sources of energy.

The Minister also talked about the functioning 28 state and 30 private educational institutions in Saudi Arabia. The majority of them work in the engineering spheres. Some of the universities have advanced research centers. There are also silicon valleys, which conduct scientific projects and collaboration with international organisations. There is a state scholarship for students to study abroad - in the US, Canada, Australia, the United Kingdom and other countries. Not so long ago a state fund was created for financing scientific projects on a competitive basis. The fund's budget for the next 5 years is 2 billion euros.

During the visit the parties discussed possibilities for students from Saudi Arabia to study at BSUIR in English, opportunities for our University to become a partner for competition in science and research grants. The visit ended with the decision to give to the delegation concrete propositions from BSUIR in specific spheres for collaboration. The meeting ended with the mutual gift exchange.

Keywords:
BSUIR internship